Larry 'Pic of The Month' and Links Page...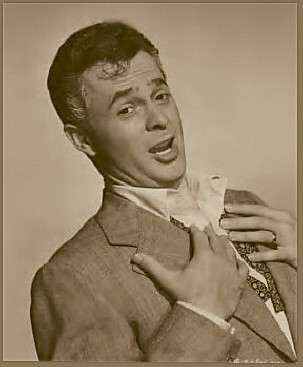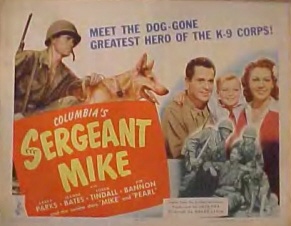 ---
Larry's Early 'B' Movies...


are not easy to find, and sometimes the frustrating thing is... Larry isn't easy to find IN them... I watched

"First Comes Courage",

waiting to see Larry, and near the end he is in one scene coming over the hill in Army Helmet (so cute, but not enough of him:<) As in

"You Were Never

Lovelier",

Larry is in a few group scenes but at first i didn't recognize him with the 'slicked hair and mustache'. (Luckily i am a Fred Astaire fan, though i prefer Fred with Ginger Rogers, as i had bought the DVD). I think when Buying try to make sure Larry is Listed as 'Starring in' or at least one of the Leads. My favorite 'B' of Larry's is

"She's a Sweetheart"

in this he is really the Main Character and it is such a cute movie. In

"Is Everybody

Happy",

which is based on the life of Ted Lewis (also in the movie) Larry has a strong part and a good amount of screen time. I've also watched

"Hey

Rookie"

and

"Hello Annapolis"

(thanks to Lori) and he is one of the leads in each of these. One of the first i bought was

"Flight Lieutenant",

it Stars Pat O'brien, Glenn Ford and Evelyn Keyes, again Larry is in uniform, Air Force, but only has about... maybe 15 Minutes of screen time but as starved as i was back then for Film of Larry i have watched it a good few times...

"Counterattack"

is a FAR better Movie, Larry is in Half of this one. In

"Blondie Goes to College"

he has a fair amount of scenes. In

"Her Husband's Affairs"

(Lucille Ball) he is himself in a guestspot of 2 scenes, it was after 'Jolson' so he looks like we are used to seeing him. In many of the earlier roles his hair was parted and often flattened down.... i think maybe because that was 'the look' in the 30s and 40s, the same with trying a mustache.

"Reveille With Beverly"

stars Ann Miller and is a cute musical but Larry's part isn't very big. (Sure beats the 'one scene' or'blink and you miss him though'.
I am Really trying to find

"Stars On Parade"

('44) as he is Starring in that one but as yet i haven't been lucky. I'll let you know though.

"Black Parachute"

(again my copy is dark though)

"The Racket Man" "Boogie Man Will Get You"

all feature Larry, not

"The Power of The Press"

though, that's just a couple of scenes. Some of Larry's 'hard to find' Are showing up on ebay but you can always look up the name of the Movie on IMDB and see how far down Larry is listed to get an idea if you are going to see much of him in them.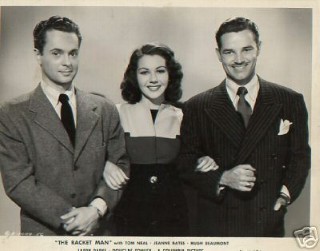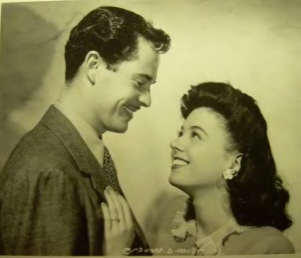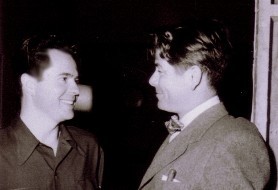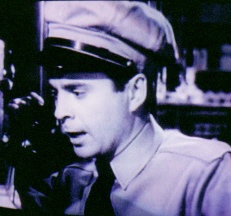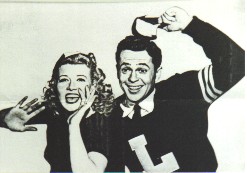 Above "Blondie Goes To College" Below "The Racket Man"
Above "Boogie Man'll Get you" with mustache & slicked hair:>
Below "They All Kissed The Bride" (Small Part)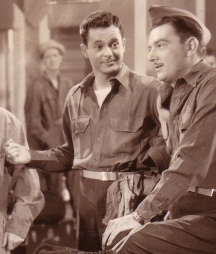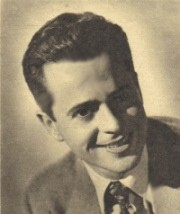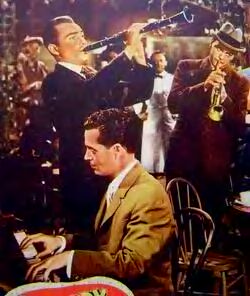 Larry on piano in."Is Everybody Happy"
FanPix.net

(

Showing pix of Larry & you can leave a comment about Larry.
From The Diary of Rene Moody.
I was working in London in 1954 close to the Tube (Subway) Station where Larry Parks was filming "Tiger By The Tail", my friend and I were big fans of his so on my lunch hour i went to watch. They were shooting a scene and then took a break. I walked over and asked for his autograph. He was so handsome, rather serious but I thought he was concentrating on his part. The Director called to him, he signed my paper, told me 'thanks' and went back to work.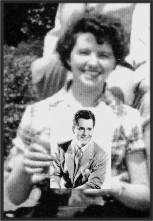 From Dee H. u.k. (a Larry fan.)


Hi, I enjoy the Site, it brings back many happy memories, Back in the 50s I saw Larry And Betty at the London Palladium also later at The Chiswick Empire and waited to get Autographs. During the show people would call out for 'Jolson' songs so when he signed my book I told him how i loved his movies and he looked at me and said " and I guess you want me to sing Mammy?" I said 'Not really, my favourite singer is Guy Mitchell but I loved you in "The Swordsman", I Love Costume movies!! ( I really loved the way he wore those tights but never said that!) Anyway he half grinned and said "Cute", so I told all my friends he called me Cute, but i really think he meant the Other kind of 'cute'. I still enjoy seeing "The Swordsman". (and those Tights)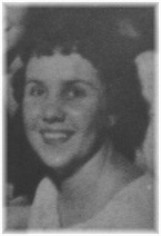 Letter from Actor/Writer J.R.


Hi Jan, Have been looking at the magnificent Site you've created for Larry. I was an extra on The Jolson Story and got to know Larry quite well. I worked out with him at Harvey Easton's Gym in W. Hollywood along with Kirk Douglas and other actors. I think working out served him well for his Swashbuckling roles. Larry was one of the most friendly people I ever knew & never looked down on 'mere extras' as many actors and Directors did. I also worked on Betty's "Take Me Out To the Ballgame" and "Words and Music"... another delightful person. I later became a TV Writer for "Gunsmoke" and many other Westerns & stayed friends with Jim Arness and Dennis Weaver. When the DVDs of The Jolson Bios came out I immediately bought them and I never tire of watching Larry, what a Talent and what a nice guy. Best, John Rosser. Calif.
From a conversation with Singer Guy Mitchell.
"Jolson had a big influence on me and it was amazing to watch Larry Parks in those shows. He had to have been singing his heart out as you cannot look that convincing just miming. Eddie (Fisher) once said to me , "every singer out there has been influenced by either Jolson or Sinatra" and Eddie of course was 100% Jolson fan, for myself I admit taking something from each of them until Mitch Miller found me my own 'platform'. Though I can do a good Jolson imitation! Ask Jan." One night we waited up till 3 a.m. to watch "Jolson Story". on TV.... luckily we were both night owls. (Guy and Eddie were roommates when they stared out and remained friends. Also Guy really Could do a great Joli... My big regret was one afternoon at his home he must've sung a dozen Joli songs and I wish I'd turned on the Tape Recorder:<)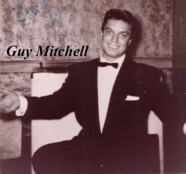 ---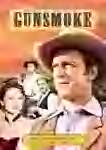 RECENT PICS of The MONTH........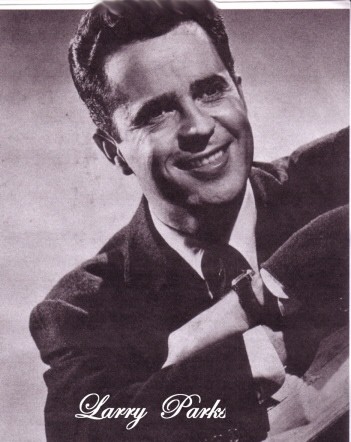 "WHEN JOLSON WAS KING"
byRICHARD GRUDENS,in which i'm honored to say Richard asked me to write a piece on LARRY:> This book (and others) is available at Richards Web Site....

http://www.richardgrudens.com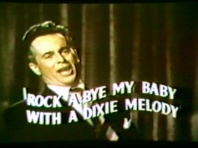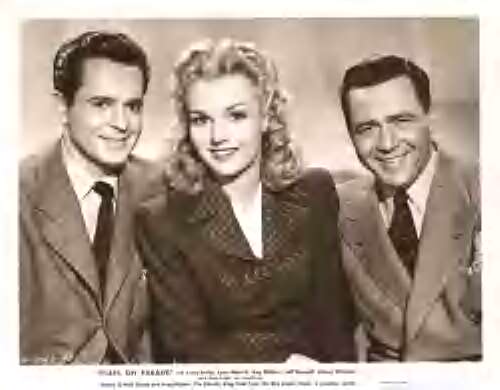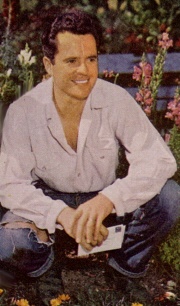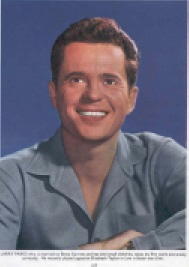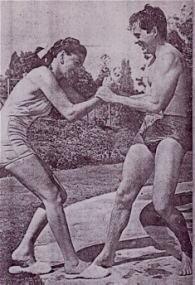 Left. Larry & Marguerite Chapman. I've always Loved this Pic!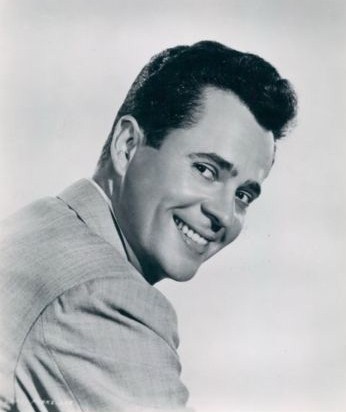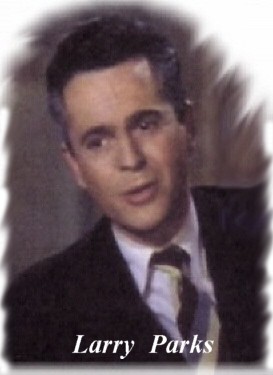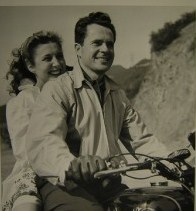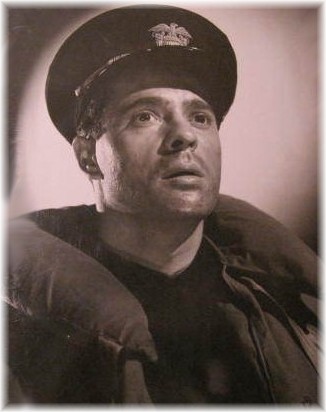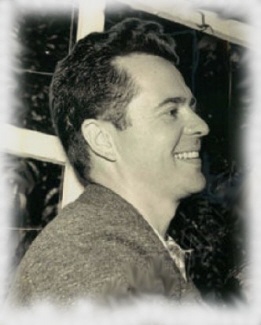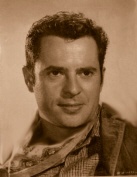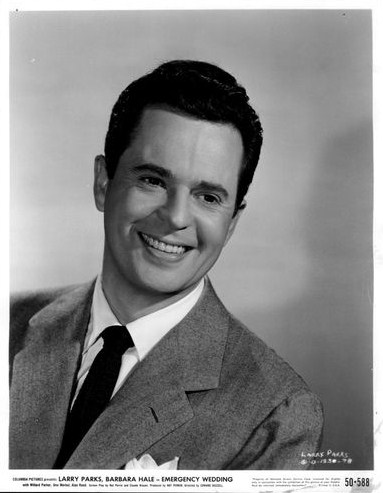 Click here to find when Larry's Movies are on TV
on TCM.......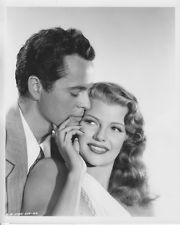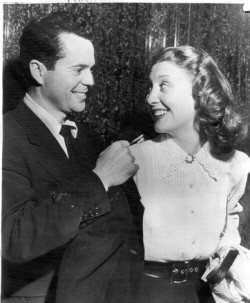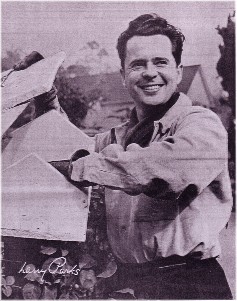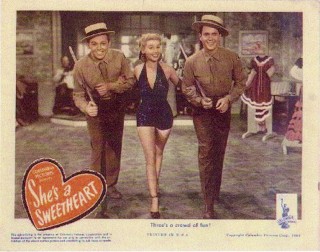 Hi ..it's great to be back, but while I'm searching for a few new photos i'll have to use 'repeats'.... Happy Halloween :>) Jan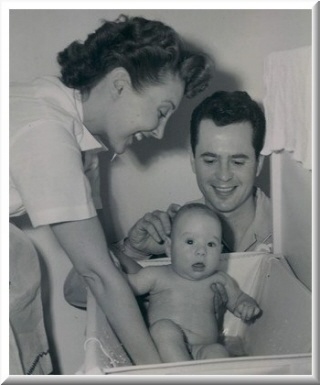 Thanks to Carolyn McD. for the above photo